Day of the Dead in San Gabriel Etla: Fiesta and Parade
Guided Experience /

 

Fitness level:

Easy

 /

 

Group Size:

 

Up to 12 people
WHAT YOU'LL DO
Our Day of the Dead experiences connect you with local families from indigenous communities where you can live the ancestral traditions of Oaxaca.  Far away from the glamor of Day of the Dead festivities in the downtown area, each community celebrates their deceased ancestors through distinct traditions.  However, the overall vision and spirit of this unique celebration remains the same. We wait for the return of the souls of our loved ones who have passed on, as they embark on their journey to the land of living to spend time with their families and loved ones.  Our ancestors come back to indulge in the essence of all of their favorite food and drink, which has been placed on families' altars in their honor.
San Gabriel Etla is a small community with approximately 500 inhabitants situated in the municipality of San Juan Bautista Guelache.  Here, local families will welcome us into their homes to live their unique cultural customs and Day of the Day rituals.  On November 1st, the spirits of our ancestors are amongst us.  They have crossed through the portal from the underworld into the world of the living to honor us with their presence.  In San Gabriel Etla the community prepares a grand celebration.  It's going to be a party!
Our day begins at a local family's home in this majestic town rarely visited by tourists. Here we will begin our Day of the Dead experience with a small welcome circle, present ourselves and elaborate a small ritual in memory of our loved ones who have passed on.  We will also construct our very own altar with all of the necessary seasonal ingredients such as papel picado, flowers, candles, fruits, copal and much more! 
We will visit the 'camp santo,' a sacred field of marigold flowers in the community where we will create our very own bouquet to honor our ancestors as the sun sets on the Oaxaca valley.  We will take our bouquet of flowers to the San Gabriel cemetery where we will leave a small offering for our loved ones.  
The festive ambiance in the community will start to become apparent once we leave the cemetery. As mezcal begins to flow in the streets and fireworks light up the sky, we will walk to our local host family's home where we will share a traditional dinner.  At this time, the souls of our ancestors who have passed will also be indulging in the food, drink, and offerings we have left for them on the altar.  
After these intimate experiences with our local host family, we'll travel to the community church to wait for the arrival of the dead and celebrate together.  At the church, in the blink of an eye, neighbors, children, grandparents excitedly await the arrival of their ancestors' souls (tonallí).  The local town band will be performing traditional banda music, with the central plaza quickly filling up with dancing, costumes and drinks.  The celebration of Day of the Dead does not mean that Mexicans do not fear death, but it is the joy that our deceased return to the land of the living annually to spend time with us.  Between Mexicans we commonly say, "someone only dies when they are forgotten by their loved ones."  We never forget to honor our ancestors.
 During this celebration in the community, feel free to dance, make friends and learn about the people surrounding you because together we will be going to another home where the mezcal, dancing and sharing continues.  At this home, we will be accompanied by a small local theater group called El Cuadro.  Their shows usually involve local gossip about certain corrupt politicians alongside vibrant song and dance. 
 To end our night we will join the exuberant Day of the Dead parade which occurs in San Agustín Etla.  Local orchestral bands travel from far and wide in order to have the opportunity to participate in this massive muerteada!  Exquisite food stands, elaborate costumes, dance and much more await you as we honor the spirits amongst us until sunrise!
ACTIVITY ADVISORY
Outdoor activities carry risks, and you may be exposed to dangerous situations as part of this experience. Make sure you can participate safely given your abilities and the conditions (such as location, weather, and equipment).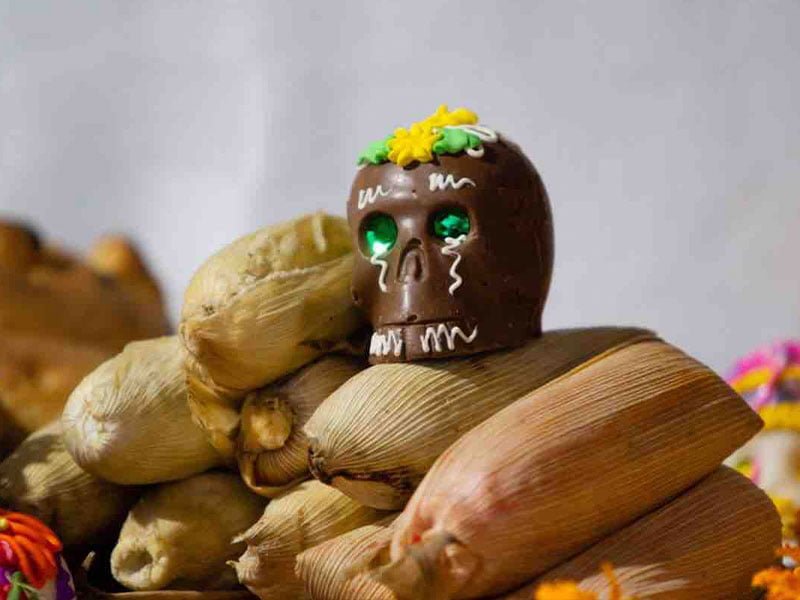 ITINERARY:
15:00 Leave Oaxaca City
16:00 Welcome Circle in San Gabriel Etla with our host family
17:00 Build our Altar + Ancestral Memory Ritual
18:00 Visit the sacred field to cut marigold flowers + Cemetery
19:30 Dinner at the home of our host family
20:30 Local Day of the Dead Ceremony +  Dance + Theater with El Cuadro
21:30 Parade in San Gabriel Etla
23:00 Transport to San Agustín Etla
23:15 Party with your group or on your own!
00:30 Transport to Oaxaca City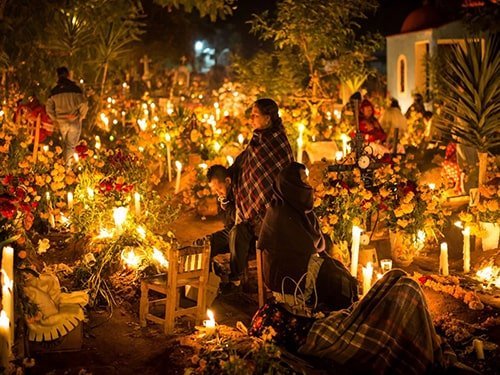 WHATS INCLUDED:
– Certified guide
– Transport
– Drinks: Water, coffee, tea
– Lunch: Tamales, hot chocolate and Pan de Muerto (vegan and vegetarian options will be available)
– Trail Mix: Organic snacks
– Access to protected areas
– Insurance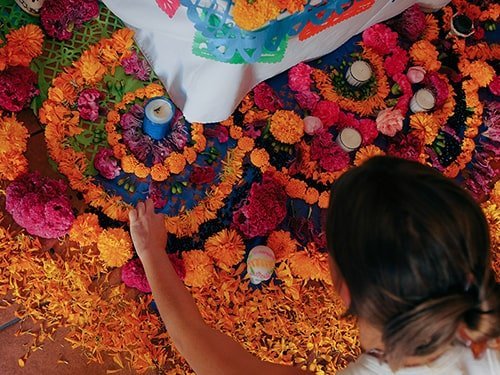 NOTES:
– Make it private just for your party with the private charter
– Don't see your desired date available? Please contact us! We will do our best to make special arrangements for you!
– Please, check the weather. 
[weather.com](https://weather.com/weather/today/l/911a6d9d14fee1c35b9430aaab0c375af74d780bd379aff6e677cf7ab9817218)
I love to travel
Out of the Box
Need more info?
Send us a message