Best Mountain Biking Trails in Oaxaca for Enduro Riders
While the Sierras of Oaxaca beckon enduro riders from around the world, there's a few locally beloved trails and bike parks just minutes from Oaxaca's Centro. Keep this list of enduro-approved mountain biking trails handy for those moments between your bigger rides when you're simply looking for fun and accessible trails to try out or test your skills.
The Guelaguetza Mountain Biking Trails at Cerro del Fortín
Gaze west of town and you'll find the skyline-dominating Cerro del Fortín capped by the famed Guelaguetza amphitheater. This glorified hill towering over Oaxaca City is home to some shred-worthy loops that would satisfy any downhill mountain biker's lunch lap dreams. Getting up there with your bike is no easy feat, but the thrills that await on the Guelaguetza trails are well worth the push. 
For those curious about the grounds they ride, in the pre-Hispanic days, Cerro del Fortín housed a garrison used by the Aztecs to impose control over the Zapotec and Mixtec populations of the Valles Centrales. These days, it's the epicenter of the annual Guelaguetza festival, a two-week celebration in July featuring the dance and culture of Oaxaca's seven regions, and a popular spot for locals to take in the sunset or get in some exercise at the start or end of the day.
In 2004, Cerro del Fortín was declared a protected natural area that plays a crucial role in keeping Oaxaca's aquifers filled, air clean, and temperature and humidity low. It's home to nearly 100 different plant species and more than 80 bird species, while nearly 50% of the park and trails is forested with jacaranda, wild tamarind, and eucalyptus.
The Scenic Single Tracks of Escalones and Carnívoras in San Felipe del Agua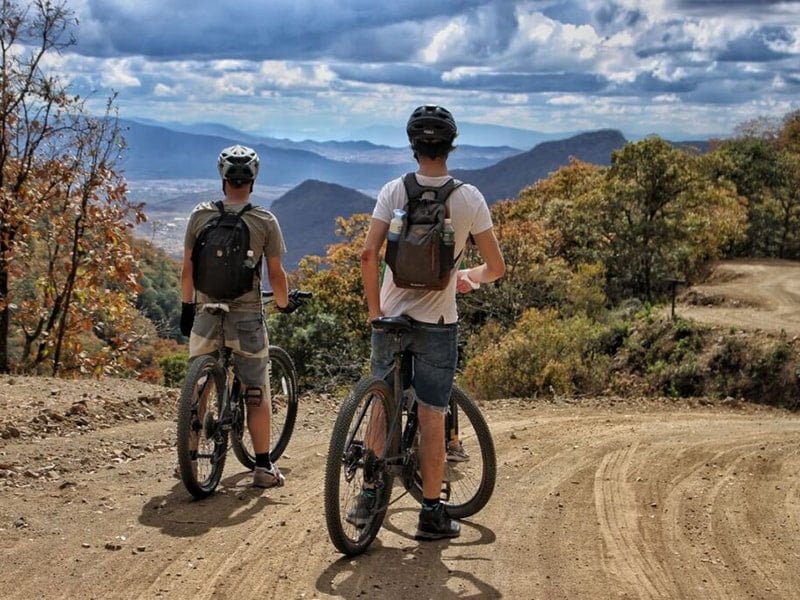 Located about three kilometers north of Oaxaca's Centro, the fast and straight drops and bermed switchbacks of Cerro de San Felipe del Agua await. The way to these prized trails is a scenic pedal along with the crumbling remains of a 16th-century aqueduct and past the interesting mix of colonial and modern architecture that is the residential community of San Felipe del Agua today. 
Escalones and Carnívoras, two of Oaxaca's proudest single-track trails, are hidden in the hillside beyond the mansions and cobblestone streets of San Felipe del Agua. Whether you hike-a-bike to the top of Escalones or pedal up the not-so-steep terrain, the breathtaking views of the valley, virgin forest, wild agave, and farmland will surely add to the rush of discovering and riding this tucked-away corner of Oaxaca. 
These linked single-tracks follow mostly rocky and eroded terrain and aren't too technical or steep, save for a few sections that may require a little extra attention and skill. Push it down Escalones' drops to go fast or let gravity take you for a freewheel. It's a choose-your-own-adventure type of trail. But once Escalones meets Carnivoras, the trail becomes a series of thrilling and endless berms and off-camber riding. 
The trail eventually dumps you once again in the quiet and cobblestone streets of San Felipe del Agua. If you happen to be riding during the months of April and May, you might even find yourself in the midst of a donkey race, tortillera competition, or a pop-up market full of artisanal goods and delicious food from around the valley. April and May are some of San Felipe del Agua's most festive months, full of cultural events and traditional dance performances.   
The Lakeside Loops and Jumps at Huayapam Bike and Ecotourism Park
Huayapam Bike Park is located a short and easy bike ride from Oaxaca City. It sits between two presas (lakes) that provide water to the towns of Huayapam and Tlalixtac. Lower in elevation than many of the mountain biking trails and parks on this list and easily accessible too, the park is loaded with single tracks, moderate climbs, and a few technical challenges you can session while there. So if you haven't yet caught your breath in Oaxaca's altitude, this may be a good spot to begin.
There are options for every level of rider at Huayapam, including a few amateur-friendly routes. The entrance to the park is a whopping 10 pesos ($0.50 USD). Kill a few hours on the jumps or practice your drops alongside the pros, then splurge on lunch by the lakeside. The presas are a favorite weekend spot for locals and, as a result, there's quite a selection of lakeside eateries to refuel at post-ride. 
With a little foresight, you could also plan to pack a picnic lunch and join the droves on a patch of grass or a tree stump around the lake. It's the perfect place to soak up the scenic surroundings Oaxaca's so very blessed with. 
The Peaceful Short and Simple Trails of Ejido Guadalupe Victoria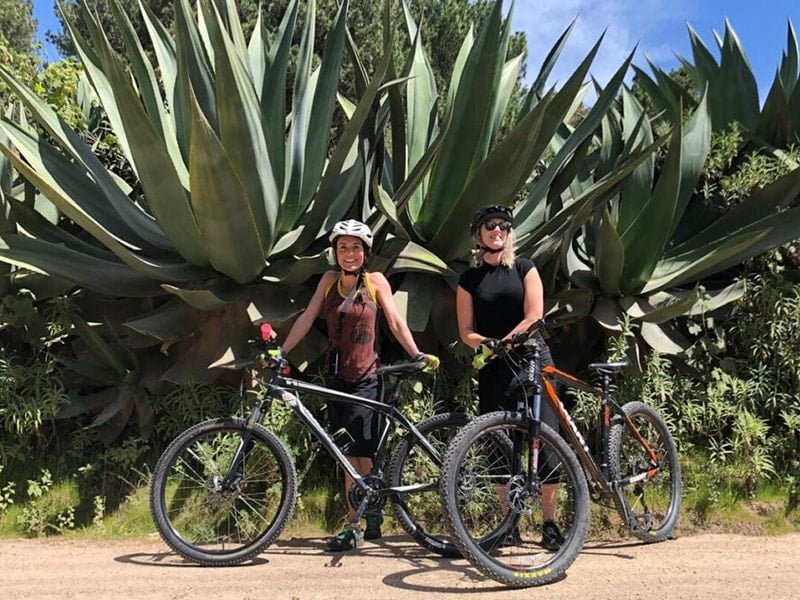 Just about four kilometers south of Oaxaca's bustling Zocalo is Ejido Guadalupe Victoria, a mountain biking oasis of simple and short trails. The terrain varies depending on the season you're riding, but expect some erosion and segments that swap between loose rock and sand along the not-too-technical route.
What Ejido Guadalupe Victoria has going for it is its views of the city and surrounding mountains and the surreal sense of being much further from Oaxaca's Centro than you actually are, not to mention its climbs are enjoyable and short and its terrain suitable for every level of rider. Beginners included.
The pueblo of Ejido Guadalupe Victoria has an air of quiet countryside to it, with rolling hills and uninterrupted mountains views. After your ride (or during), take in the scene and sounds of nature and enjoy the slower pace of this peaceful corner of Oaxaca. Refuel at a local restaurant and easily catch the bus or grab a taxi back to Centro, just 15 minutes away.
The Green Surroundings and Rock Gardens of Los Molinos
Los Molinos is a swoopy and fast out-and-back single track, popular with local enduro riders. It's situated along the road that runs between Oaxaca and Tuxtepec, an interesting town that still bears several remnants of its Andalucian Spanish and indigenous Mazatec origins. Perhaps pair your ride with a quick stopover in Tuxtepec after to visit the ancient pyramid of El Castillo de Moctezuma or to wander the town's historic streets.
The Los Molinos mountain biking trail is not particularly steep or technical, but it does offer plenty of opportunity for the more creative riders to use the natural terrain and gnarly rock gardens to jump, drop, or push it fast downhill. Los Molinos is suitable for a wide range of levels, though beware of several sections where your tires will meet polished granite slabs of stone, exposed off-camber sections, and some awkward ups and downs.
Use the ride up to admire your green and grassy surroundings, listen to the gurgling creek that flows alongside the trail, and stop and snap photos of the strange and exotic vegetation. Then send it downhill, with your eyes and legs focused on the thrills of the terrain. It's likely you'll be sharing this trail with a host of other riders, including some local pros.
There you have it. We've pointed you to the locally beloved mountain biking trails for enduro riders within easy reach of Oaxaca.
If you're curious about more specific details for each of these trails, stop by our office in Centro or contact us anytime.