8 Best Things To Do In Oaxaca That Are Worth Your Time
1. Walk it out in Santiago Apoala
Just 3 hours total from Oaxaca City lies a condensed cliffside paradise. There are only two comedors in town to cook you up delish Oaxacan food like mole con pollo o enfrijoladas, so pack your snacks and a couple meals. There's plenty to see here so reserve a cabaña (500mxn/night) with two bunk beds or head out camping and set up your tent beside the river. There's also one hotel in town.
Have a local guide lead you into the surrounding canyon, caves, and surreal lagoons. Bring your rock climbing gear or mountain bike and gain a different perspective of the box canyon from up above. Expect to make friends with the sweet local dogs and watch the world soften as the light changes in the afternoon. Grab a cold beer from the corner bodega and watch out for donkeys running loose as you listen to the river water trickle into the surrounding farm beds. 
2. Find it all at La Cumbre Ixtepeji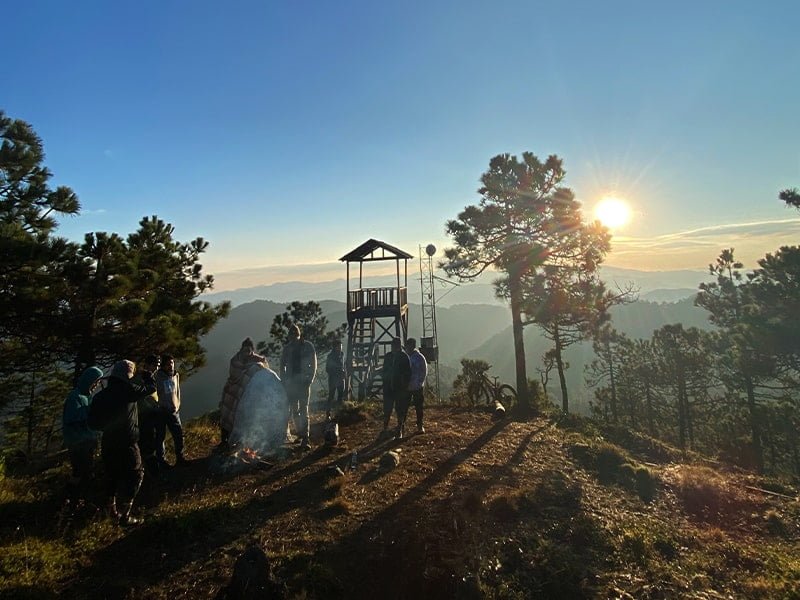 Located 45 minutes NW of Oaxaca City is La Cumbre Ixtepeji where professionally made mountain bike trails lay to your full disposal. Meanwhile, the non-bikers of the group can take full advantage of meandering hiking trails through the land that offers wonderful opportunities for birdwatching as well.
Meet back up with your crew at the end of the day for a night of camping or overnight in the cabañas managed by the local tourism office, which you'll find right as you get off the main road.
*If you take a taxi or bus to La Cumbre Ixtepeji, be prepared to hike or ride 7km on the dirt road into the campamento where the trail system starts.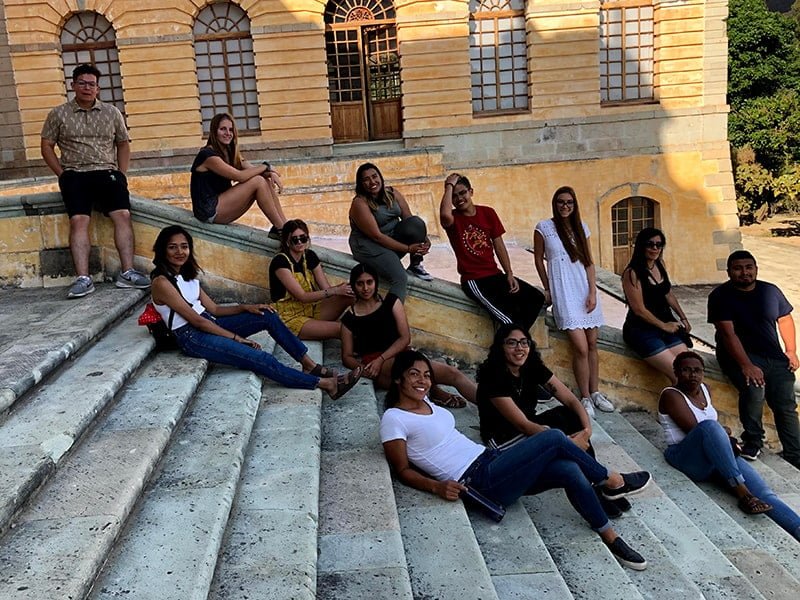 Tucked up against the hills 30 minutes NE of Oaxaca City is San Agustin Etla. Bring or rent mountain bikes in town and pedal onto a mix of open and forested flowy trails. You're sure to bring the noise to the forest as you coast through the soft soil. No worries if you'd rather stay on your feet– the area offers sublime hiking trails as well.
If you're looking for a family-friendly environment, you can find Cieneguilla Ecotourismo, host to cabañas, a waterfall, a zipline over the lake and a delicious comedor. Camping is welcomed as well– just be sure to bring the snacks and drinks your crew needs for overnight.
4. Spiritual Stopover in San Jose del Pacifico
Break up your trip to/from the coast with a taste of the Sierra Sur region in San Jose del Pacifico. With a well-established hiking and mountain biking trail system and a thriving ecosystem and economy based in mushrooms, this is a place with plenty of things to do…to de-stress, re-center, and cleanse. 
Through the cooler temperatures and high altitude, the community welcomes you with a slower pace of life and an opportunity to have a cosmic experience through medicinal psychedelic mushrooms. You can find a comfortable home base with a few hostels to welcome in the backpacking world and also your choice of cabañas from which you can overlook the morning mist. 
You'll also find numerous other opportunities to complement your mushroom exploration through a purifying "temazcal" (sweat lodge) experience or a walk to nearby waterfalls or hike to San Sebastián Rio, a beautiful small village with adobe-built houses. 
When in search of the perfect mix of indigenous culture, scenery, artenship and small community, Teotitlan is a sure and easy option.
After starting off the day with breakfast in the morning market, pass through the tourism office and walk towards the west side of town towards the looming "Picacho" mountain. Hiking the modest peak will take 2.5-3 hrs total and you'll finish up at a beautiful dam at the top of the town for a cool-down swim and plenty of bird watching. 
Spend the afternoon wandering around the town (6,000+ habitants) listening to the vibrant Zapotec language and looking at at the famed tapestries made by some of the most talented weavers in the world. You might see some mountain bikers cruising down into town after a 1500-meter downhill coast from Benito Juarez or maybe pick up a conversation with locals leading their donkeys back to town loaded up with firewood. 
Stick around for sunset or an early morning trail run and you won't be disappointed. You can have your pick of accommodations through a few bed and breakfasts, hotels, and an increasing number of Airbnbs including farm stays and camping options. 
6. San Pablo Cuatro Venados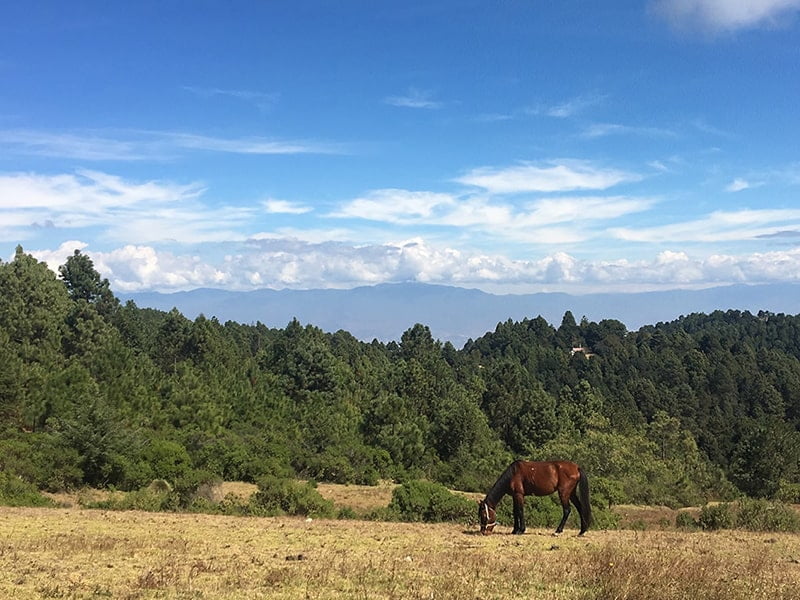 A non touristic destination you probably haven't heard of before but nonetheless a secret worth sharing. Spend the afternoon wandering around the town and a short hike to nearby cascading waterfalls for a picnic and plunge in the pools. Or ditch the car in town and get further up into the hills on mountain bike. Bring along a good friend or guide to drive the car back while you coast back downhill to Oaxaca on your bike in just 2.5 hours!…you'll probably just have to buy the beers that night.
Otherwise, soak up this unique part of the sierra southwest of Oaxaca and treat yourself to a simple night in the town's cabañas just downvalley and a locally farmed trout dinner. If you return after sunset, be prepared with your own food and drink for dinner– the comedor closes at 5pm. 
Despite seeing "Hierve el Agua" in nearly every tour agency's repertoire, you can certainly still get off the beaten path. Remember, life is always a bit softer and sweeter during the beginning and end hours of the day, so get there early and camp out at night.
At a higher altitude, the sun will be strong enough to dip into the natural infinity pool first thing in the morning before anyone else. The dripping minerals are good for the mind and body and set the tone to dig deeper into the area and drop down to Salinas, another natural grotto an hour and a half hike down below the petrified waterfalls. 
The area also provides great single track and moderate mountain biking opportunities to work up a sweat before soaking in the cool pools afterwards. Fresh fruit, micheladas, and typical Oaxacan food await you atop of the pools as you watch the rest of the tourists filter out before you have the place to yourself again at sundown. 
8. Los Pueblos Mancomunados in the Sierra Norte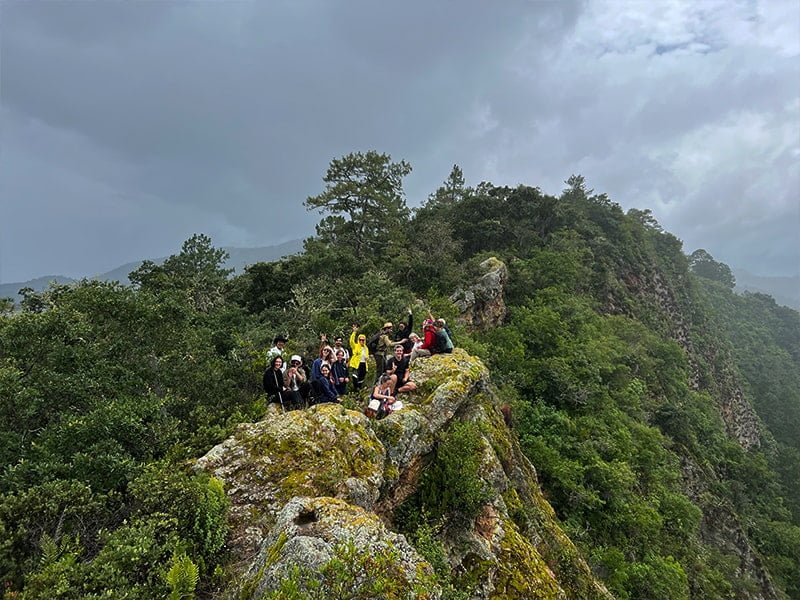 Don't let the windy road dissuade you from heading up into the Sierra Norte mountains north of Oaxaca City.
Just on the other side lays a network of towns that collaborate together to offer visitors exceptional integrated trekking and riding experiences. There, the communities of Amatlán, Benito Juárez, Latuvi, Cuajimoloyas, La Nevería, Llano Grande, Yavesía, and in part Lachatao, form Los Pueblos Mancomunados. Their ecotourism industry is a community effort and seen as a priority in not only economic stability but ecological preservation. 
Local guides will shepherd you around and between towns sharing knowledge of the shared land, stunning biodiversity of plants and mushrooms, and human history of the area.
Take your pick of hiking, mountain biking, or horseback riding through remote single-track sections or past locals' agave fields and animal pastures.
While it's practical to travel between two towns within a day trip, each community offers options to spend the night. Quaint cabañas and camping areas are nestled into the forest while formal B&B and Airbnb options can be found in the town. String together a few days hopping between villages and you'll find yourself in a non-touristic destination wishing your could forever stay off the map. 
Although Lachatao is formally separated from the Pueblos Mancomunados network, their community maintains an incredible offering of hiking and biking trails, including a circuit to the old gold and silver mines and caves that served as storage spaces to preserve harvested crops; a local guide can even lead you through these ways.
In maintaining connection with their indigenous identity, the Lachatao community established their own educational system to preserve their language and honor the traditional communal and solidarity-based customs. 
One idea is to start in Caujimoloyas and ride or walk to Lachatao (~26 kilometers) where you can spend the evening camping or in cozy cabins.
Rent mountain bikes the next morning and take off toward Latuvi (~15 kilometers). Keep an eye out for local fauna including white-tailed deer or "tigrillo," a small spotted leopard lurking in the trees.
Wondering where to start your Oaxaca adventure?
With so many wonderful options at your disposal, it can be useful to talk it out with a local Oaxaqueño who can help you prioritize your exploration here in Oaxaca.
Adventure specialist Coyote Aventuras is a great resource to utilize and can help to plan out destinations, transportation and gear rental options if needed. No matter if you want to add an outdoor sports tour to your itinerary or explore independently, you'll surely find plenty more reasons to love Oaxaca.